A Heartfelt Letter To All The Misties.
Dear Misty Waters 2023,
I wanted to take a moment to express my deepest gratitude to each and every one of you for making this year's festival such a success. The hard work and dedication that each of you put in behind the scenes truly did not go unnoticed and I cannot thank you enough for all that you have done.
Oom Johan Rosslee, thank you for your financial support and for making this festival possible. Your passion for this festival and your trust in us as organisers has brought joy to so many and your contributions will always be remembered.
Lize Rosslee, my beautiful wife and "right hand (wo)man", thank you for all your hard work in bringing us the additional fringe festival and for managing the logistics of the artists. Your attention to detail and tireless efforts made this festival a smooth and memorable experience for all. Ek is vreeslik lief vir jou en sonder jou emosionele bystand sou ek al 'n paar keer mal geraak het.
Tannie Serene Rosslee, the cool-headed badass that puts any worries to rest at the touch of a button! Thank you for the amazing organiser and aunt that you are!
Meghan and Martin Keyser, you are both a mean team that can react and organise at a whim. You are the glue that puts the logistics in place and make my life so much simpler!
Alastair Rosslee, thank you for your efforts in setting up the festival features such as the Misty sign and stage shading as well as being my "left-hand man". Your commitment to the festival did not go unnoticed.
To the amazing Lake Umuzi badasses, some of you that I call family, and others feel like family… Flip Rosslee, Gae Burger, Alma Swart, Oom Chris, Ashlee, Elrice, Geraldine Rosslee, Rhodes, Mieke, Rolin, Tannie Fienie, Mandla, Oom Danie, Jeandre, Percy, Oom Frans & Roos&Rosslee staff, Oom Willie, Martin, Phaka, Shelton, Lucky, Edward & Boesies staff, and the rest of Lake Umuzi's staff, thank you for your contributions to this festival. Your support in various roles, from the ticket office and accommodation arrangements to electrical and technical requirements, was crucial in making this festival successful.
Thank you to the two special volunteers, Dewald and Nicho, who jumped at the opportunity to help out with the Misty signs out of the kindness of your hearts!
I would also like to extend a heartfelt thank you to all the external businesses that contributed to the festival. Little Paws and Marsh-cup for their happy attitudes and help at running the bars, Stratconrisk for the security during the festival, Comfort Loo for the maintenance of portable toilets, Eish Secunda restaurant, Zebra's bar, and @Upstairs sky bar for being great hosts to the Fringe Festival, Synethesia for the sound management at the fringe festival, @Fame productions team for exceptional sound, visuals and stage management during the festival, especially @Ryan Ferreira for showing his passion for the festival and running the Fame productions team, The Merch Church for the band merchandise, and Party Rockers for the Misty Waters t-shirt printing.
A big thanks goes out to our accommodation partners Umuzi Lodge, InnGreen Hotel and The Merchant Hotel for giving us the means to make this festival accessible to all, as well as our external accommodation partners Riverside Country Estate and 16 Vaalriver Guesthouse for hosting some of our artists.
To the magical creatives that documented the mystical time we all had, Jono from Dizzy Khaki working tirelessly for 5 days in a row on video production, Jacques Schutte that has to work through sickness to bring the sickest photos and Evan Cummings from Byevancaptures with his keen eye behind the lens. Thank you for capturing the moments of Misty magic that will refresh our foggy (or misty) memories!
@Steve East, thank you for your electric MC work on stage, bringing a creative twist to each artist's introduction and energising the audience throughout the fest!
Finally, to all the talented musicians that graced our stage and showcased their talents, I want to thank you from the bottom of my heart. The Narrow, Fokofpolisiekar, Springbok Nude Girls, Karen Zoid, Bittereinder, VAN PLETZEN , Arno Carstens, Shadowclub, Desmond and the Tutus, WONDERboom, Tidal Waves, Glaskas, Bad Peter , The Tazers, Ruiter Piet, Nax, Defy Theory, Apollo Motel Band SA, Reets feat. Bez, Punkfontein , Court Gibson feat. 88 Lion's Gate, Black Heidi, Basson Laas, MaxX & Love, @4am, @Funky monks, Frans Karoo, Verbruikers Vriendelik, Wolfgang Marrow, Cigarette Culture, and @Zen garden, your performances were truly unforgettable. A special thanks to Bittereinder for giving me the honor of rapping with you and Court Gibson for joining you with your didgeridoo drones!
With that mouthful said, I sincerely hope that I have not missed anyone. If I have, just take note that I have not forgotten your inputs, only missed the thought in the moments of typing this.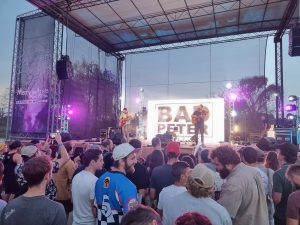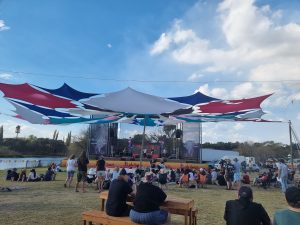 To all the attendees who brought their passion to the festival, thank you for making Misty Waters 2023 festival an unforgettable experience.
It is with tears that I greet my home in SA and have to say "au revoir", but luckily "not adieu", to all my friends and family, many of whom are part of this wonderful Misty family. Now I am off to a new adventure in the USA with its own new challenges awaiting. Misty Waters Music Festival has been the best going away party that I could have wished for! Not to worry, I will still continue the push to keep on with Misty from the distance, as this festival has become a piece of me that I do not want to cut out.
See you all again in the Mist next year!
With sincere appreciation,
Dian Rosslee
Misty Waters Music Festival 2023