InnGreen at The Lofts, self-catering apartment in Secunda, Mpumalanga
GREEN LIVING ACCOMMODATION IN SECUNDA
InnGreen at The Lofts offers self-catering accommodation in Secunda, Mpumalanga
As an annexure to InnGreen, the Green Living Express Hotel at Lake Umuzi, InnGreen at The Lofts offers a spacious self-catering accommodation option. The 2-bedroom, 2-bathroom, double tandem garage with large open living area and spacious work stations, combines safety, security, space, convenience, privacy and luxury.
The on-site, well-equipped gym and heated lap swimming pool make exercise a simple pleasure. You are spoilt for entertainment choice with braai facilities next to the swimming pool as well as an indoor gas barbecue in each unit.
InnGreen at The Lofts is ideal for business or leisure with a Queen/Queen or a Queen/Twin bed configuration (first come- first serve). Serviced daily, guests have a choice of either self-catering or a Bed and Breakfast option with breakfast being served at Eish!! South African Kitchen, only 6 minutes away.
InnGreen at The Lofts, self-catering apartment in Secunda, Mpumalanga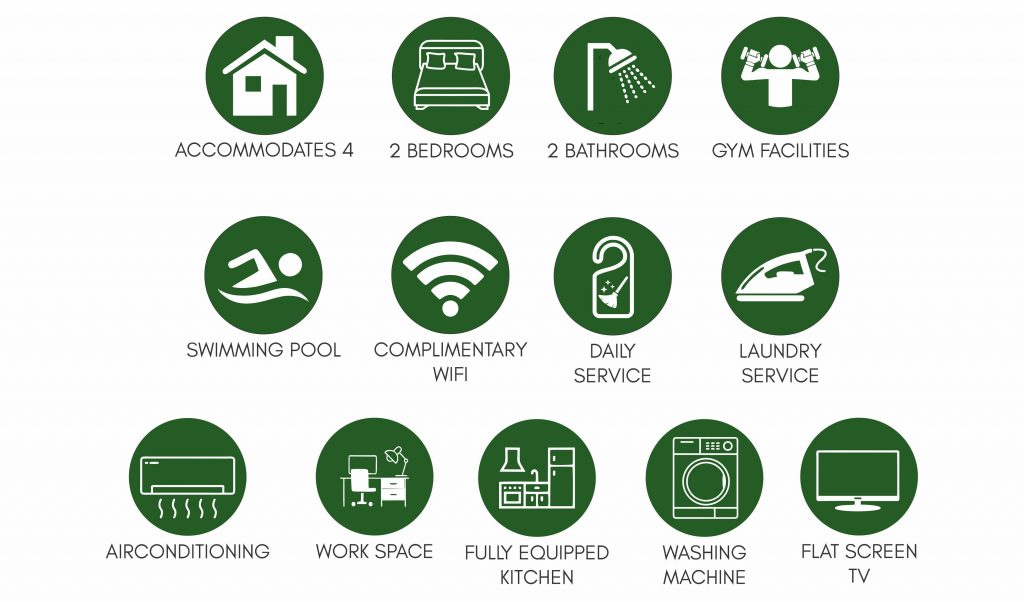 MODERN, HEALTHY-LIFESTYLE LIVING
Each loft has 2 Bedrooms, one en-suite and one with a separate full bathroom, each equipped with luxuries such as heated towel rails. Both bedrooms have spacious cupboards.
Each unit has a large open plan living area with indoor braai facilities, large workspaces with complimentary wi-fi, a modern, fully equipped kitchen, and a dining room.
The large, double tandem garage hosts the washing area with private drying facilities and has plenty of storage space. We have an on-site, well-equipped gym for the health-conscious and a 15m heated pool in the communal entertainment area.
Each unit is serviced daily and even though every unit has a washing machine and drying area laundry service is available.
InnGreen at The Lofts is self-catering apartments with under the skin engineering.
Vertical living means you do not have neighbours above or below you

South-facing windows are tinted thus total privacy from other guests

Recessed windows and double glazing means reduced street noises
Easy-access to the main road to Sasol, CBD, Secunda Superspar, Secunda Mall and Lake Umuzi Waterfront
Double, tandem lockup garage with motorised garage door and direct access into the Loft unit means no hassles in bad/cold weather
Standby generator to prevent blackouts during the all too regular power-sharing and breakdown of electricity
The on-site management will promptly solve any issue a guest may have
Direct entry from garage into the unit
Safety cell, upper floor living prevents access by burglars at night
2,5m high brick walls with electric fencing and armed response
The open landscape to assist detections
Security cameras with additional armed response. (ie. Double armed response)
Cleaning staff are screened prior to employment
EXTREME ENERGY & WATER EFFICIENCY
InnGreen at The Lofts, self-catering apartment in Secunda, Mpumalanga
The buildings make use of "Eco-bio-mimicry" principles to reduce energy consumption by reducing the outside surface area.
In summer, the warm air is extracted through the chimney, drawing cool air from the garage below whilst in winter the vents are closed to keep heat in.
Large double glazed north-facing windows with smaller double glazed south-facing windows allow the living area to be filled with returned light. The north-facing windows allow the sun in from autumn to spring, and in summer are shaded. Insulated walls and roofs ensure minimal temperature fluctuations.
Drying of washed clothes is by drip drying to the high energy consumption associated with tumble drying.
No electricity is used for water heating or cooking, and all appliances and lighting are energy saving.
Water saving, aerated showerheads reduce water consumption.
This means you can enjoy your lifestyle without having to worry about an energy bill. The units are fully equipped and services five days a week, with a weekly linen change.
Your ultimate flexible, long term, convenient accommodation which is safe, private and which include the following:
Free, fast WIFI
Daily servicing
Electricity, gas and water
Private laundry – optional only for the discerning business executive
Self-catering accommodation in Secunda, Mpumalanga
INNGREEN AT THE LOFTS
Please specify Queen/Queen or Queen/Twin when booking. Please note these will be allocated on a first-come, first-serve basis. Pricing is the same for both options.
InnGreen at The Lofts, self-catering accommodation in Secunda, Mpumalanga
Peak season rates available on request
All rates include 15% VAT
PLEASE NOTE: ALL RATES ARE SUBJECT TO CHANGE WITHOUT PRIOR NOTICE
OTHER ACCOMMODATION OPTIONS
InnGreen at The Lofts, self-catering accommodation in Secunda, Mpumalanga