The Start
In 2015, the Lake Umuzi Soccer Challenge started as an opportunity for local kids to keep fit and out of mischief through playing regular games in and around the Secunda area. Teams from Embalenhle, Lebohang, Kinross and Mzinoni competed throughout the year and initially the top 4 teams qualified to join in a day of fun at Aqua Zone Waterpark for the annual prize giving. On these days, at Aqua Zone Waterpark, our future soccer stars are treated to swimming and sliding on the super tubes to everyone's delight, with only a momentary interruption for the annual prize giving by past Mayors of Govan Mbeki Municipality.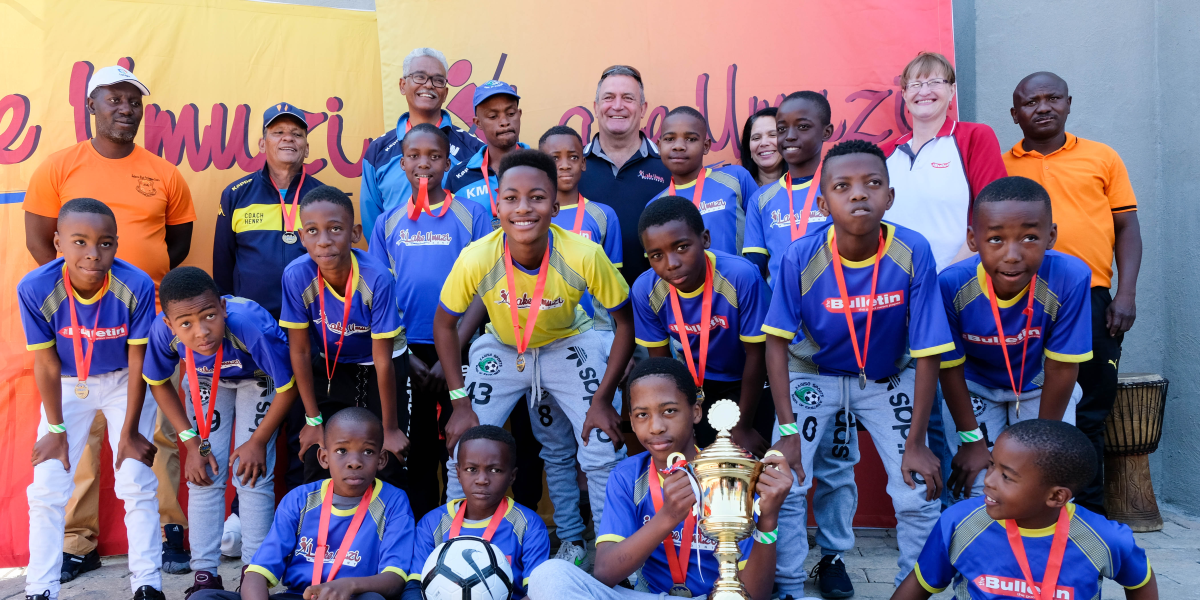 Ceremony, Lunch and Waterpark Fun 2017
2021
In 2021, the soccer stars couldn't believe their eyes when former Kaizer Chiefs and Bafana Bafana star, and current Super Sport analyst, Jabu Mahlangu arrived to present the prizes in person. Before running off to the slides once again, the kids were treated to lunch and cold drinks.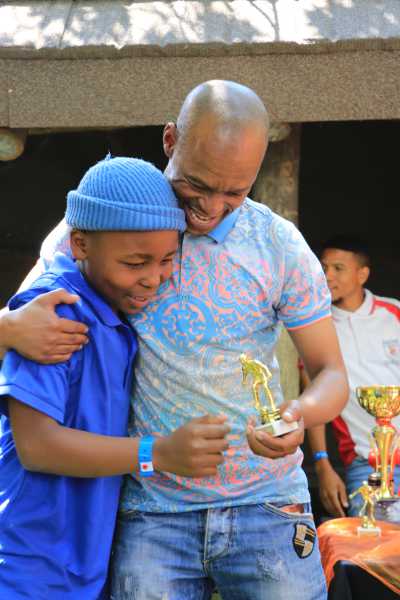 Under the managerial skill and commitment of Mr. Jacob Mtakwende and his team, the Lake Umuzi Soccer Challenge has grown in leaps and bounds. Whilst teams continue to compete to come out on top within the towns surrounding Secunda, Mr. Mtakwende and his team choose a team of who they believe are the best u/13 players from those contending teams to represent Lake Umuzi in Gauteng. Lake Umuzi FC then goes head-to-head against the likes of Wits University Juniors, Orlando Pirates Juniors, Super Sport United, Florida Albions and many more. Thus, giving the youngsters from our local communities a chance to showcase their talent on a larger platform, growing not only in their talent, but also as individuals. In preparation for the VW Challenge Lake Umuzi FC even had a friendly against Kaizer Chiefs' u/13s.
2022
In 2022, teams competed in the various towns until the top teams from Embalenhle (3), Lebohang (2), Kinross (1), Mzinoni (1) and Belfast (1) was determined. Thereafter, these teams competed in the Lake Umuzi Soccer Challenge finals. The top 4 teams from the finals progressed to a Super 8 challenge against 4 Gauteng based teams, the winner from this challenge laying their claim as champions of the 2022 Soccer Challenge. Together with the champions, the top 8 Mpumalanga based teams was invited to the Aqua Zone prize giving and Waterpark Fun Day.
Prize giving 2022
On 16 October 2022, the teams of the Lake Umuzi Soccer Challenge had their prize-giving at Lake Umuzi. The ceremony was held at Boesies, after they received a hearty meal and then had a chance to enjoy AquaZone Waterpark, and play their hearts out as kids should.
South African National Anthem sung at Lake Umuzi Soccer Challenge prize giving 2022 by Jessica Mbangeni
Ceremony, Lunch and Waterpark Fun 2022
2023
On the 25th of Feb 2023, Lake Umuzi Soccer Challenge assisted Build It to host a local soccer derby at Sasol Recreation Club.
Build It Soccer Tournament
2023 Grassroots Reporting