Camp in Secunda at Lake Umuzi Kamp Oase
WELCOME TO KAMP OASE
Camp in Secunda at Lake Umuzi Kamp Oase. Amid Mpumalanga's heartland, an oasis can be found. With modern ablution blocks, indoor & outdoor swimming pools, jungle gym, grass, trees, braai facilities, water and electricity point for each camping site, Kamp Oase provides everything for a memorable time.
Spacious and easy to use with warm water
Each stand has a braai stand
Each stand has a power point
Specimen carp fishing at Lake Umuzi
Indoor & outdoor swimming pools
A colourful jungle gym for the children
AquaZone Waterpark
Secunda Action Sport
Rocky Waters Adventure Golf
Mvua Wellness Spa
6 On-site Restaurants
Blazing Guns
Idwala Adventures
The dam offers the opportunity for fishing with an array of species, including carp species and barrel. The campground is adjacent to the Secunda Action Sport, and within walking distance from The Lake Umuzi Waterfront, with lots of activities for the younger generation.
Carnival Square is the largest jungle gym in Africa. AquaZone Waterpark offers five waterslides, an indoor swimming pool, and an outdoor kiddies pool. Rocky Waters offers an 18-hole miniature golf course – each with a separate entrance fee, where applicable. With five different restaurants, your menu for a pleasurable time is unlimited.
Lake Umuzi Kamp Oase is also a short distance from Graceland Casino and Country Club and a 15-minute drive from Walker Park Golf Club.
RATES PER PERSON PER NIGHT
0-3 years – FREE
4-12 years – R80 pppn
13-59 years – R120 pppn
60+ – R80 pppn
Rates include complimentary access to AquaZone Waterpark, subject to trading hours and excluding Public Holidays
Standard Stands (1 to 64/67 to 86)
R100 per stand per night max 6 pax per stand & 1 vehicle
Stand 65 & 66
R300 per stand per night max 6 pax per stand & 1 vehicle
Stands A & B
R300 per stand per night max 12 pax & 2 vehicles
Stands C, D, & E
R200 per stand per night max 12 pax & 2 vehicles
Long-term stay rates are valid from 2 months onwards
Price available upon request
R100 per extra vehicle per day
Check-in: 14h00 (unless otherwise arranged with management)
Check-out: 11h00
NO day visitors.
NO audible music allowed in the campgrounds during the day or night
No motorbikes or quads allowed
Minimum stay of 2 nights
R500 compliance deposit – Refundable
Your pet must be on a leash at all times

Owners are responsible for the removal and disposal of their pet's faeces

Lake Umuzi does not take responsibility for the pet's safety
From Secunda Mall, Drive South (towards Charlie 1)

300m turn right in Kiewiet street

600m turn left at Umuzi Lodge
Here the check-in process can be done
DIRECTIONS TO CAMP GROUNDS
From Umuzi Lodge turn right at the gate
At the T-junction, turn right
560m turn right at Builders Warehouse
300m turn right at Lake Umuzi South Bank
Through the gate, follow the road to Lake Umuzi Kamp Oase's gate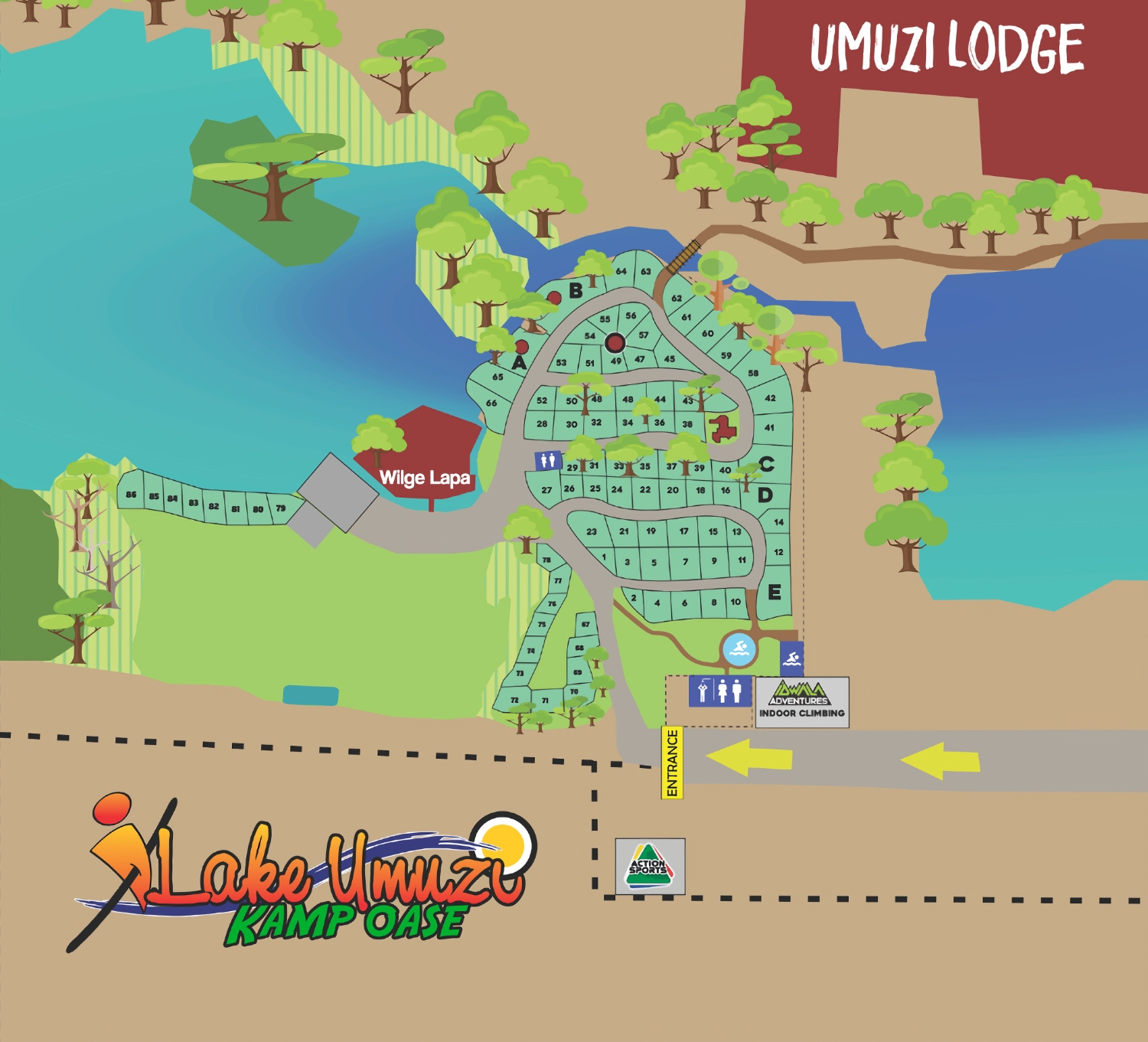 Lake Umuzi Kamp Oase is approved  by:
Camp in Secunda at Lake Umuzi Kamp Oase
Peak season rates available on request
All rates include 15% VAT
PLEASE NOTE: ALL RATES ARE SUBJECT TO CHANGE WITHOUT PRIOR NOTICE
Camping in Secunda at Lake Umuzi Kamp Oase