At Justino's Mozambique and Portuguese restaurant, we're excited to bring you a weekend special that's sure to tantalize your taste buds. Whether you're a fan of hearty Portuguese cuisine or crave the unique flavors of Mozambique, our specials this weekend have something for everyone.
Dobrada A Portuguesa – Portuguese Tripe with White Rice
This weekend, we're featuring a classic Portuguese dish, Dobrada A Portuguesa. This savory and comforting dish combines tender tripe with a rich tomato-based sauce, served alongside a generous helping of fluffy white rice. If you're looking for a hearty, traditional Portuguese meal, this is a must-try!
But that's not all – we have more delicious specials to satisfy your cravings:
Dobrada Portuguese Tripe - Justino
Red Roman – Large or Medium with Boiled Potatoes and Veggies
For seafood lovers, we're offering Red Roman. You can choose between medium or large cuts of this delectable fish, served with perfectly boiled potatoes and a medley of fresh, steamed vegetables.
Grilled Dorado Fillet with Boiled Potatoes and Veggies
If you prefer a lighter option, our Grilled Dorado Fillet is an excellent choice. This tender and flaky fish is grilled and served with the same mouthwatering sides of boiled potatoes and a colorful mix of veggies.
Half a Kilo of Prawns with Chips or Rice
Indulge in the flavors of Mozambique with our Half Kilo of Prawns, served with your choice of crispy chips or fluffy rice. These prawns are perfectly cooked, ensuring a burst of succulent, savory goodness in every bite.
Don't miss out on this culinary adventure at Justino's this weekend. Come and savor the delicious tastes of Portugal and Mozambique. Our specials are available for a limited time, so be sure to visit us soon and experience the best of both worlds on your plate.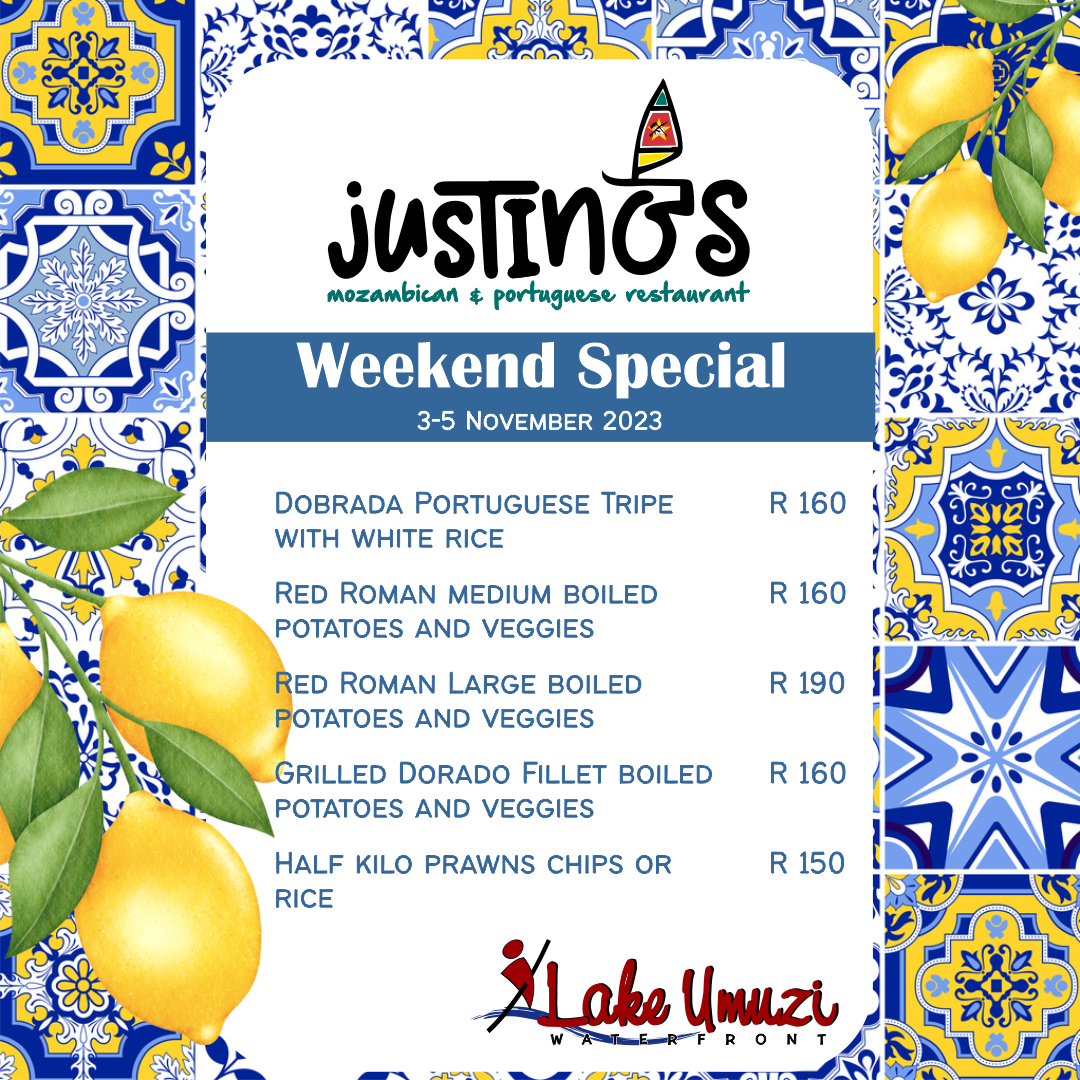 Justino's – It's all about the taste