Boesies – More than meets the eye
Boesies Function and Events Venue is situated in the heart of Lake Umuzi, nestled between the lush willow trees on the banks of Lake Umuzi. Tranquil and off the beaten track, away from the hustle and bustle.
Looking for a venue for your next private, corporate or year-end function, a big milestone birthday, family or school reunion, kitchen tea or baby shower, or just a braai with friends or colleagues.
No need to sit with the hassle of hosting at home. No need to tidy up when everybody has left. If you want it to be more special than the norm, why not contact Boesies – it may be more affordable than you think.
Should you wish to plan the event yourself or make use of your own events planner, you are welcome to do so.
Also, why not do your own décor or make use of the many Event Decorators available in or around town. Flexibility, to meet each patron's needs, is the "name of the game".
Now, for a limited time, and should you wish, you may even make use of your own caterer.
This makes Boesies' variety of venues ideal for Catering and Events Entrepreneurs to make use of our facilities.
With so many options available, simply call us TODAY to find out more!!
1. Makoro
The iconic thatch building, visible from the Waterfront, is ideal for dining and dancing with bar facilities and DJ area. A wide-open deck, overlooking the Lake with braai and boma area, making it ideal for a variety of styles, from spit braais to fine dining. Its natural warmth makes winter parties a simple pleasure.
Suitable for functions up to 220 guests.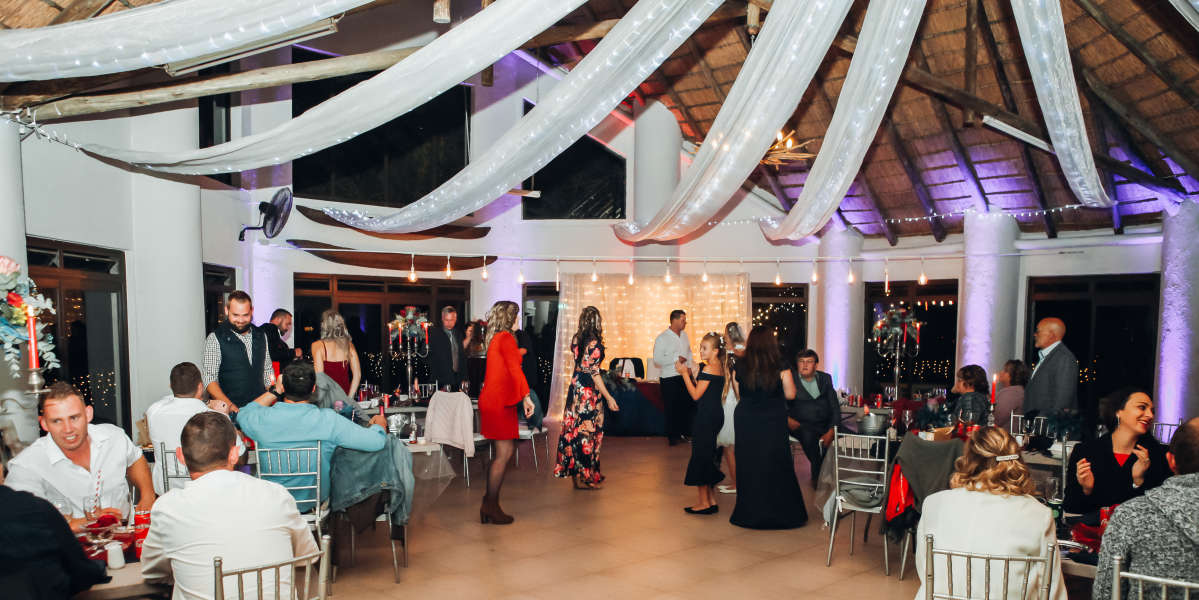 2. The Deck Bar
A day and early evening venue, up to 21h00, for small groups wishing to Braai with full bar facilities in a cosy environment, in the forest overlooking the lake. The rustic bar area is enclosed with seating on the deck. Also ideal for groups staying at Umuzi Lodge, to do a "Bosberaad or Lekgotla" and teambuilding
Suitable for informal get togethers up to 20 guests.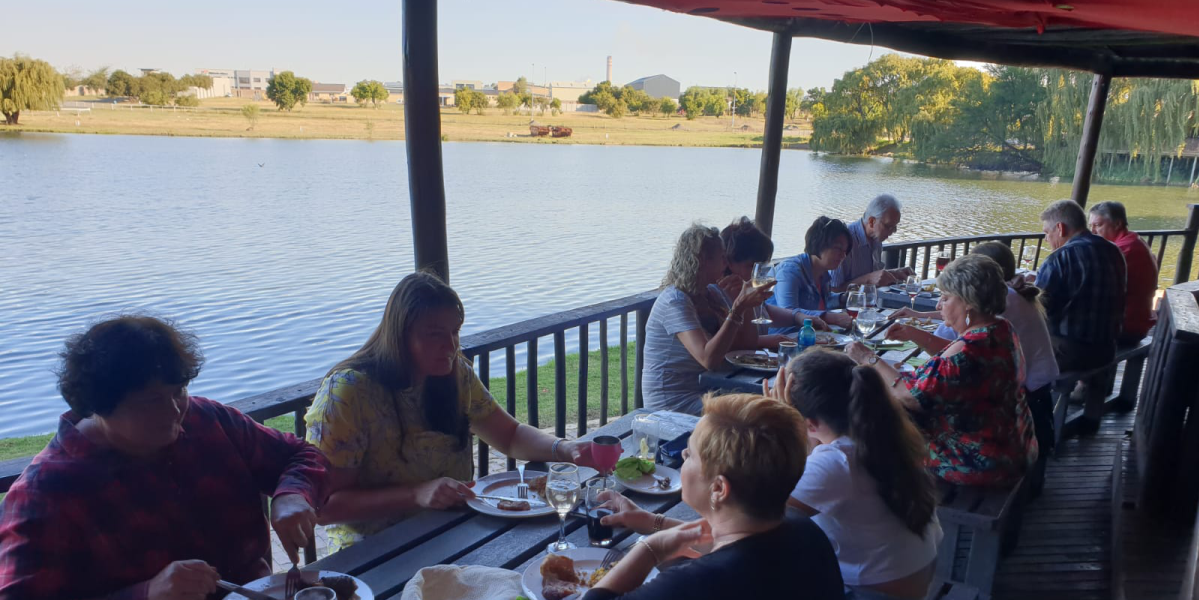 3. The Deck Bar and Boma
A day venue and early evening up to 21h00. For larger, informal events under the majestic combretum forest, so completely different from anywhere else on the Highveld. This small, indigenous forest is far from the grasslands which the area is known for. When you add the Boma to the Deck Bar, it can host up to 80 pax. The layout makes it ideal for bachelors, company breakaways, bosberaad, mans doekebraai or just friends celebrating life.
In summer, AquaZone Waterpark's operating season, it will be perfect for private functions such as children's parties, pool parties and the like.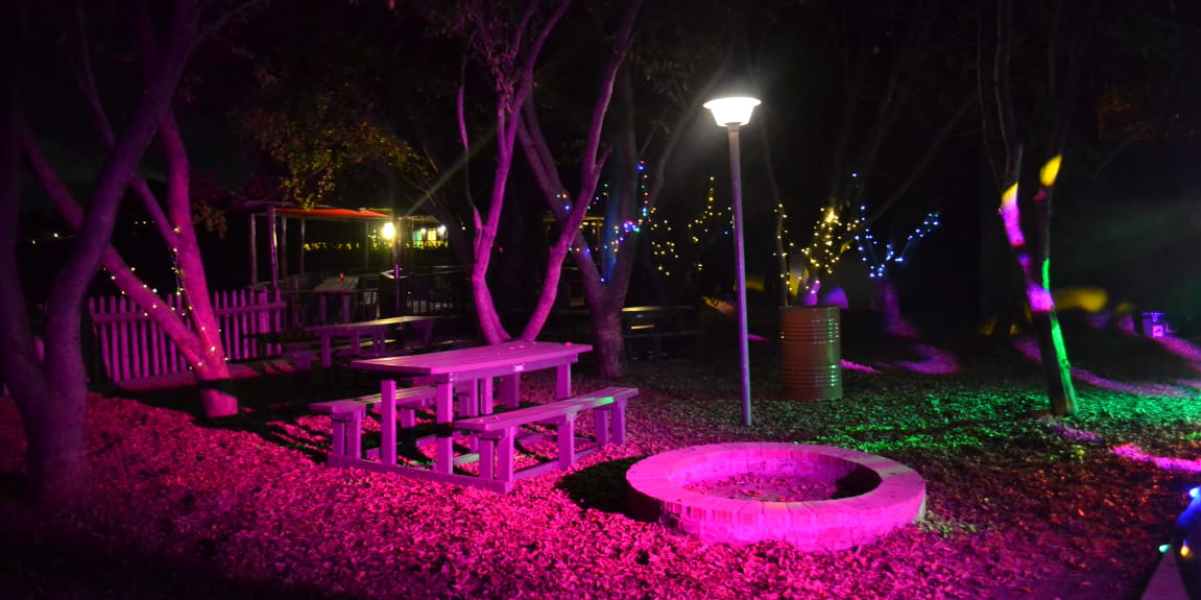 4. Upstairs at Boesies
This spacious, elegant room above the restaurant hosts functions and conferences for up to 70 guests. It is ideal for more formal functions. Overlooking the pool area with its luxurious trees, once again making it different from what you might have experienced anywhere else in town. From fine dining to buffets, it is sure to meet the highest standards.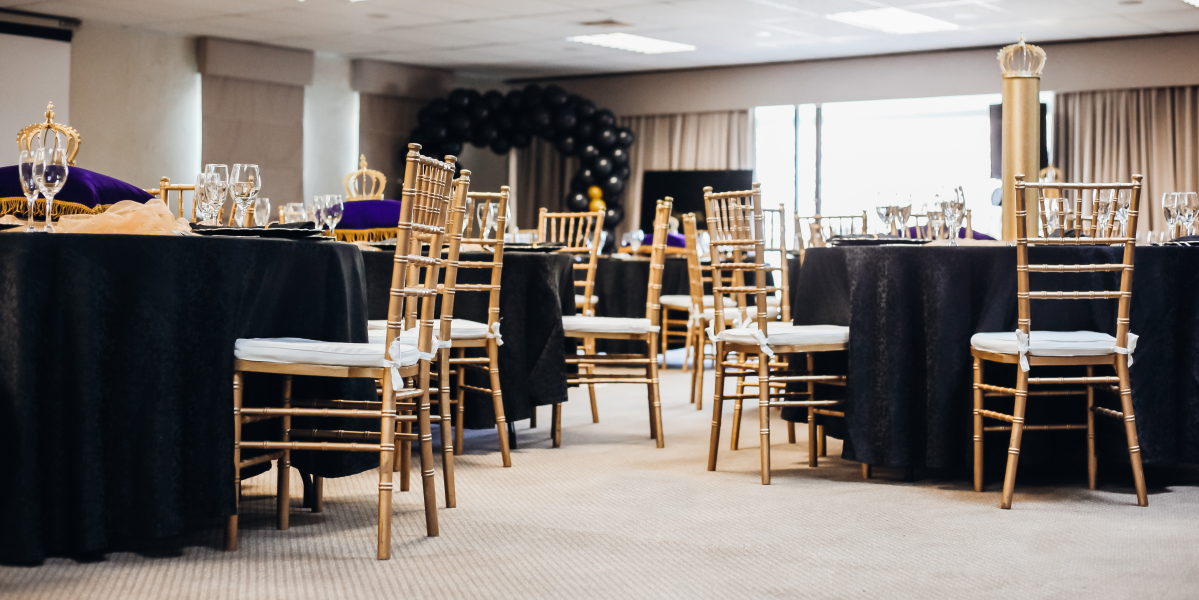 5. Poolside
One of the advantages of the Highveld is the predictability of the weather during the winter months. With warm, cloudless days and cold nights, you can plan a midday event around the Boesies' pools. They have large umbrellas and poolside loungers, as well as patio tables and chairs. Here anything from snack platters to burgers with chips and braai options are available, depending on the type of event.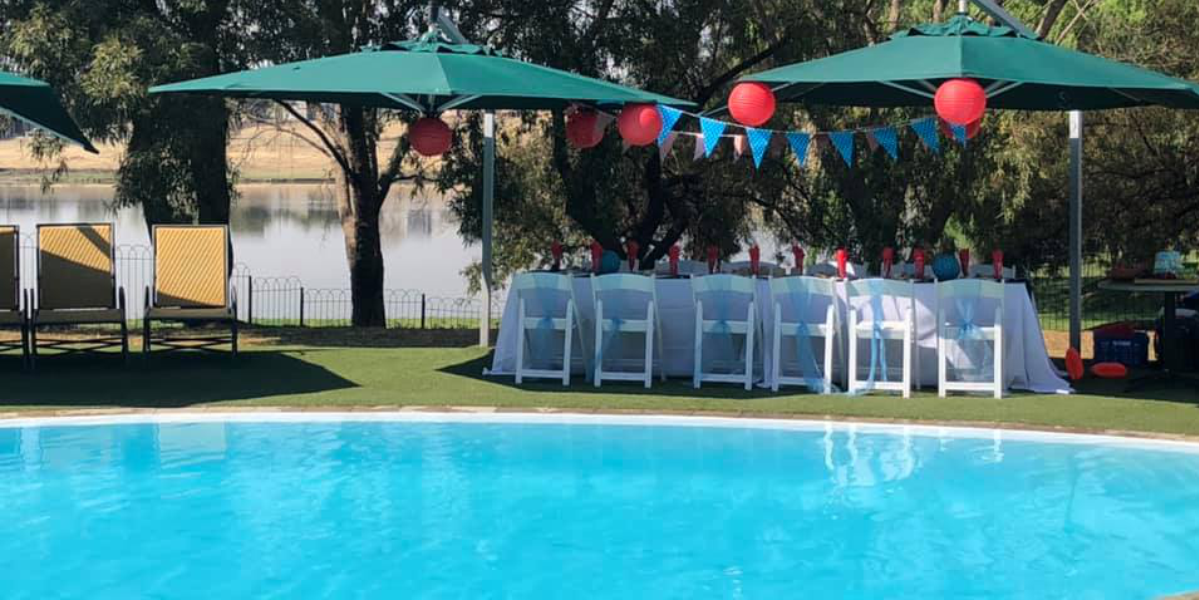 6. Marquee
Home to the annual Wyn-inni-Tyn, the Marquee is magnificent for those BIG (after COVID) events. This venue can easily accommodate up to 300 people with a dance floor and a stage. It has its own bar area, and the sides can all be lifted giving it a semi-open-air feeling. It has a large, lush green lawn where a jumping castle can be set up for the little ones to enjoy and at the same time is overlooking the overflow of the Lake Umuzi Dam. The occasional Mallard Duck visits the stream to check if they will be served as a snack.
7. Riverside Lapa
The Riverside Lapa is definitely for those more intimate events, baby showers or a High Tea-themed birthday. It is outdoors, yet shaded due to the thatched roof. It is situated on the banks of the stream leading towards the lower dam, adjacent to the Chapel and a perfect venue for your peaceful, outdoor function. Even if you prefer a less traditional wedding ceremony, this will be a very romantic option. Suitable for up to 40 guests.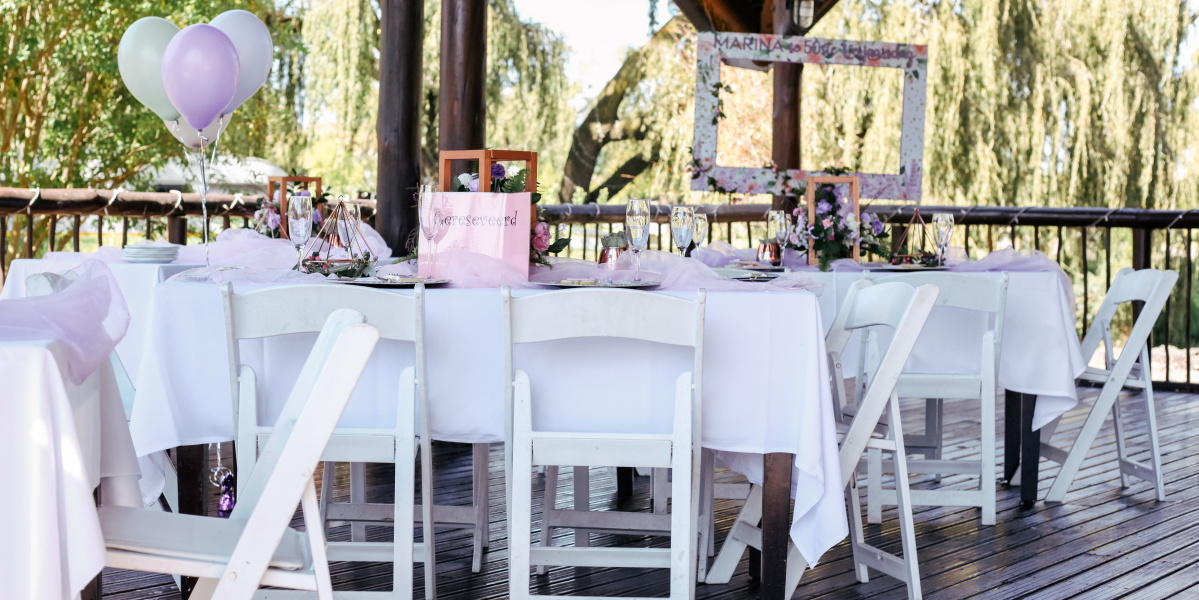 8. Chapel
The rustic, yet modern Chapel can be used for more than just wedding ceremonies or Christenings. This venue is ideal for anniversaries, bachelorettes and much more. The layout options are also endless. You can have long or round tables or a center table with tables set in a circle around it. You have a blank canvas where your mind can wander and coloured in according to your dream event.
Suitable for up to 140 guests for a ceremony or 70 guests with tables.
9. Boesies' Restaurant
Ideal for those ladies' lunches or brunch outings, breakfasts or breakaways. With the bar just a few feet away and the kitchen adjacent to the restaurant, it makes all the catering effortless and worry-free. The restaurant overlooks the multiple pools.
Suitable for up to 60 guests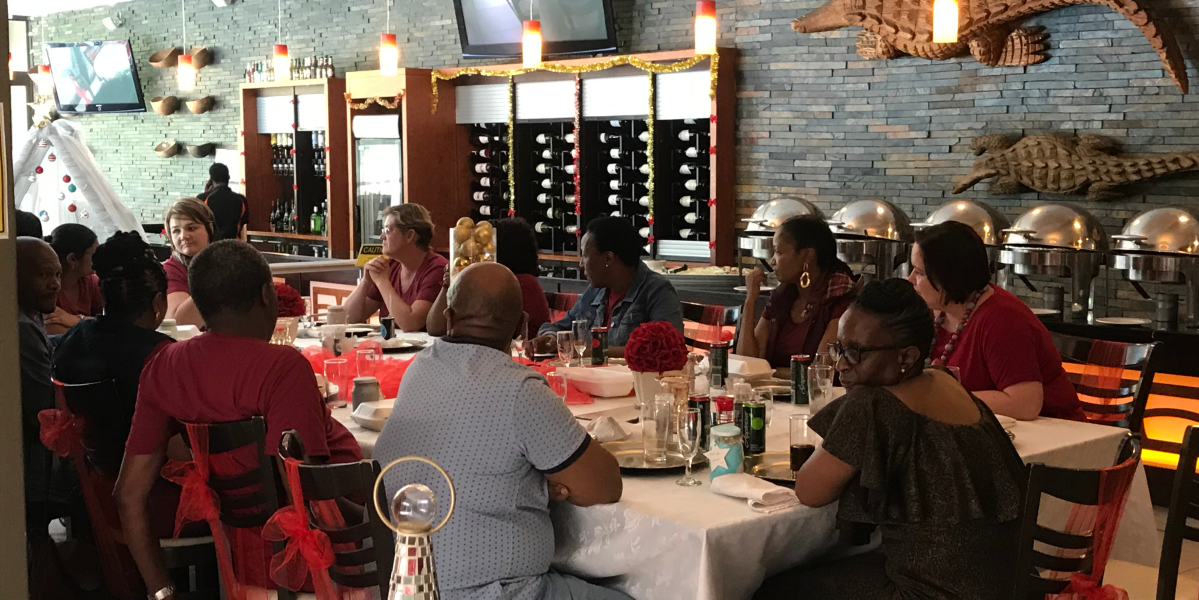 10. The Willow Trees
For the individual, inspired by nature and craving to spend as much time as possible in beautiful and lush natural surroundings, Boesies has the most idyllic scene for those events. As if our options are not endless enough, we offer 2 outdoor options with weeping willow trees swishing in the background. What about a traditional picnic under the willows?
Option 1 is the enormous Willow Tree with lush, green grass beneath it. Just a few meters away from this iconic tree, you will find braai stands for braaiing while enjoying the view of Lake Umuzi.
Option 2 is situated next to the chapel underneath a bush full of weeping Willow Trees. Here you will find a divine, open space on the grass perfect for casual, outdoor events such as romantic picnics or kids birthday parties. This space is located on the banks of the lower dam and is completely shaded by willow branches. Boesies can provide chairs, tables and pallets with white pillow for seating.
All the venue options can be decorated by our skilled events planner and coordinator or you can simply choose to hire the space and make use of your own décor and events planner – Boesies does it all and more.