Idwala means rock in Zulu. Zulu (isiZulu) is one of the official languages in South Africa, spoken by about 9 million people. Now, what is more fitting for a rock climbing business in South Africa?
Idwala Adventures is the only indoor rock climbing facility in Mpumalanga, and is located at Lake Umuzi South Bank across from Action Sports and right next to the Lake Umuzi Kamp Oase entrance. The unusually shaped building is hard to miss even from across the waterfront. Next time you are sitting on the deck at Bosveld Lapa, be sure to peep across the lake at the intentionally skew building with the mountainous design painted across it. That is Idwala Adventures, and your next favourite place to exercise, tone and build muscles, interact with the friendly staff and enjoy a beer or two (naturally, after you've exhausted your climbing abilities for that evening).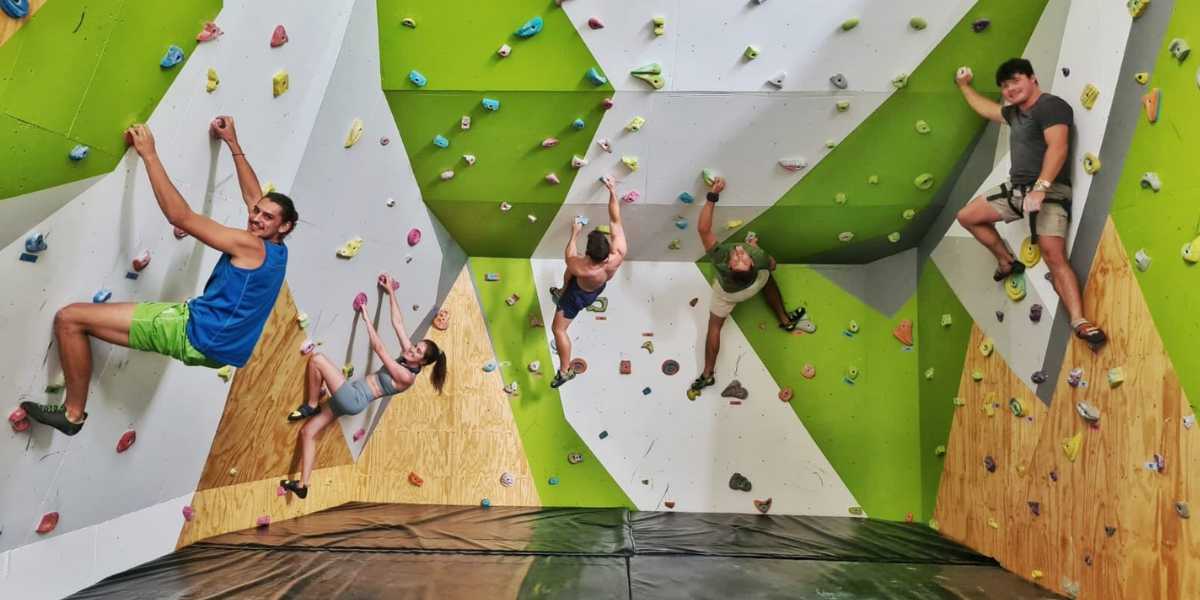 Currently, Idwala Adventures offers three different climbing options. They are top rope climbing, bouldering climbing, and kiddies climbing. Top rope climbing requires the climber to wear a harness and attach a rope that is fastened to the top of the wall to his/her harness. Working together with a belaying partner, the climber can now embark on his climbing journey to the top of the wall – the 11 meter wall that it is. Talk about reaching new heights with this intriguing indoor sport! Bouldering is a type of climbing where the climber doesn't need to be fastened to a rope, considering the wall isn't as high. With a thick mat placed under the bouldering wall, the climber can enjoy this 4.6 meter high wall and safely fall back onto the mat. Bouldering is an ideal climbing method to build up endurance and strength.
At Idwala Adventures the owners encourage all to enjoy the indoor climbing facility, even offering a wall specifically designed for your lovely younglings. A lower wall at only 5 meters, with easier routes are provided for the kids. This is the perfect idea for kids' birthday parties as it introduces them to a new sport, keeps them busy and entertained, and allows them to shake off some of that built-up energy.
Idwala Adventures operating hours are 5PM to 9PM during the week, making it the superb substitute for going to the gym after work. Let climbing, with all of its benefits, become your new workout after work. For those unable to attend during the week, Idwala Adventures is also open on Saturdays and Sundays! Join the rocking fun from 10AM to 5PM on Saturdays and Sundays.
So, if you've been craving something else to do in town, this is your call-to-action. Rock climbing can work in conjunction with other exercise activities, such as working out at the gym or going for your daily jog. Whether you want to do it for the thrill of trying something new, or become physically stronger, Idwala Adventures is your answer.
Contact the extremely friendly owners and staff at Idwala Adventures today and learn more about how rock climbing can positively influence your body, your mind, and your entire life. We say extremely friendly, because multiple people who have been to Idwala Adventures rave about how inviting and supportive they are. One visit to Idwala Adventures and you are forever a part of the Idwala family – or should we say the idwala umndeni.
Still not sold on whether rock climbing is for you. Read this article solely based on the benefits of rock climbing HERE.
Alastair: 079 446 6887
Or visit their website for more information: www.idwalaadventures.co.za