It's time to show our local camping and caravan parks some love and support. Why? Because these are strange times we live in and everyone needs a little love here and there. Kamp Oase has received ample love in the past and we want to give back, not only to the lovely local spots but to the avid campers who have supported us in the past. We want to provide you with five of the best local camping and caravan spots, some of which you might've never heard of and could possibly become one of your next favourite camping spots. We hope you enjoy reading the list below and support them when you're in their area.
1. Klipdraai Caravan Park – Meyerton
Described as a jewel and surprise in the middle of Gauteng. And from what we've heard and the photos we've seen it does seem to be true. This caravan park is surrounded by lush green grass and provides a hefty amount of shade for all campers. Its aim is to ensure every camper from young to old can enjoy the weekend away.
Somewhat of a bigger caravan park, Klipdraai has 230 stands, each with an abundance of trees, electricity, and water points. This caravan park accommodates for its many stands with a whopping 10 ablution blocks. Exciting activities to look forward to when choosing to spend your holiday at Klipdraai; warm- and cold water swimming pool, Jacuzzi's, volleyball, outdoor chess, mechanical bull, mini-golf, jungle gyms, pony rides, and fishing.
Book your next camping trip HERE

2. De Rust Caravan Park – Pretoria 
This resort prides itself on its hands-on supervision. It is well run by the owner and staff that provides a friendly, clean, and well-maintained camping ground. De Rust resort is ideal for the camper who prefers a quiet weekend getaway, as it only offers 30 stands. Each stand has its own braai, water and 16 amp power supply.
You and your family can also enjoy a good rest knowing that the security is fantastic with patrolled game fences and a security entrance gate. Another aspect that makes De Rust Caravan park one of our favourite local camping sites is its nature rich surroundings. Early morning self-drives will reward you with a variety of Fauna and Flora including the Big 5. De Rust also boasts impressive birdlife. To date, 280 bird species have been identified, including the rare African Finfoot, the half-collared Kingfisher and the white-backed night Heron.
At only 35km from Pretoria, De Rust is the perfect local camping spot to come to for a peaceful weekend filled with appreciation for the untouched bushveld.
Head to their website to plan your next getaway.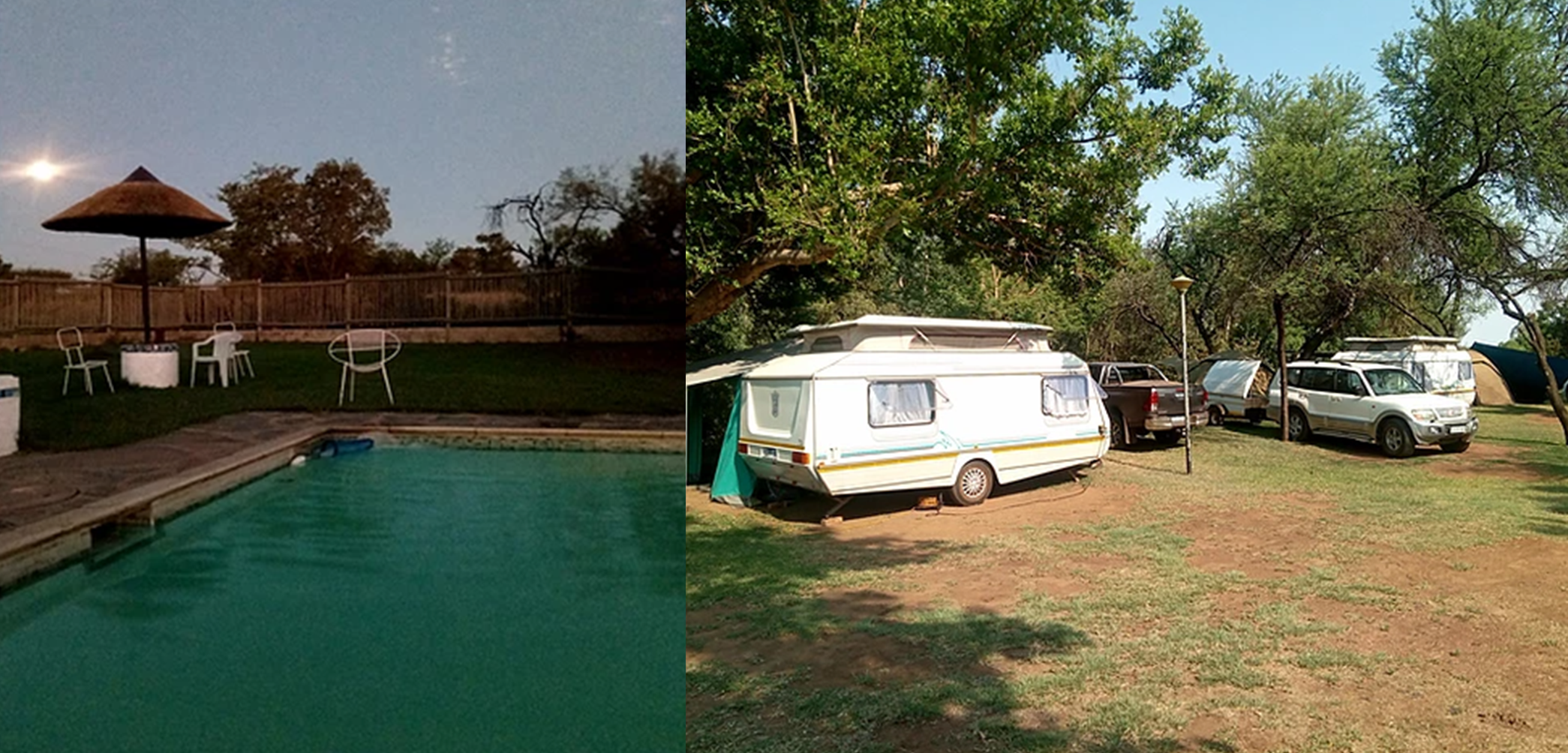 3. Ruah Park – Pretoria 
Ruah Caravan Park is located 30km North-East of Pretoria, is surrounded by an oasis of dams and streams, and has a natural spring running throughout the farm.
Campers can spend their afternoons fishing or enjoy a walkabout among the wildlife that includes small game and giraffes. Ruah Park is a paradise for any birdwatchers and nature lovers. For the more adventurous camper, there are nature trails along the banks of the dam.
With some of the most modern and cleanest washing facilities (please peep the picture below) Ruah Park is a must for anyone – camping fan or not. Ruah offers private washing facilities for each stand.
Book your glamorous camping getaway HERE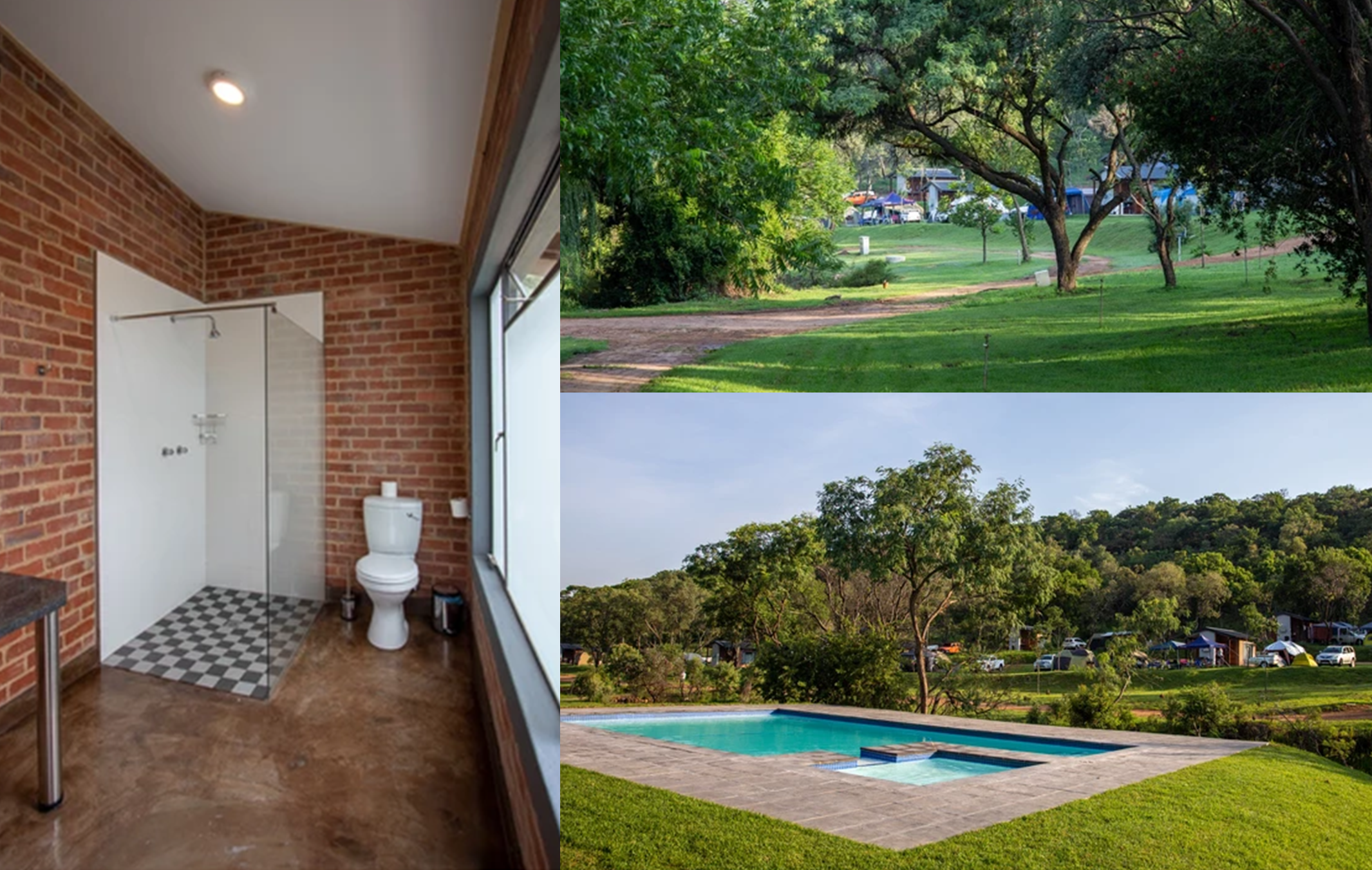 4. Klein Paradys – Brits
"Probably the nicest camping site I have ever visited. Can't recommend it enough. Perfect for families." – Normal Hill
Described as a piece of heaven and a paradise. Klein Paradys offers a space for delightful camping and lazing around on lush lawns with serene views overlooking tranquil waters. There are 80 standard stands and 20 exclusive stands (with their own ablution facilities). All are equipped with 15 amp electricity, water taps, and portable braais. Stands are situated under an abundance of shady trees. The spotless ablutions are indicative of the high standards maintained, with twenty baths/showers, and twenty-two toilets.
Follow the link for more information CLICK HERE

5. Nkwe Pleasure Resort – Tierpoort
Retreat back to the basics of camping. Nkwe is mostly known for a day visiting and picnics, yet its caravan park is set in a lovely tree-rich area offering spacious stands all equipped with electrical connection, clean ablution blocks, and an on-site tuckshop. This could be your next favourite caravan park and it's so close to Bronkhorstspruit and central Pretoria. Nkwe is also one of the few caravan parks that rent out caravans. This means you can partake in all the fun of camping without owning a caravan.
The caravan park is in close proximity to the Nkwe waterfall cascading into the famous rock pool below. Set up camp on a grassy pasture and spend your days in awe of nature, the birdlife, and lovely, quiet scenic walks.
Book a camping weekend at Nkwe's Caravan Park HERE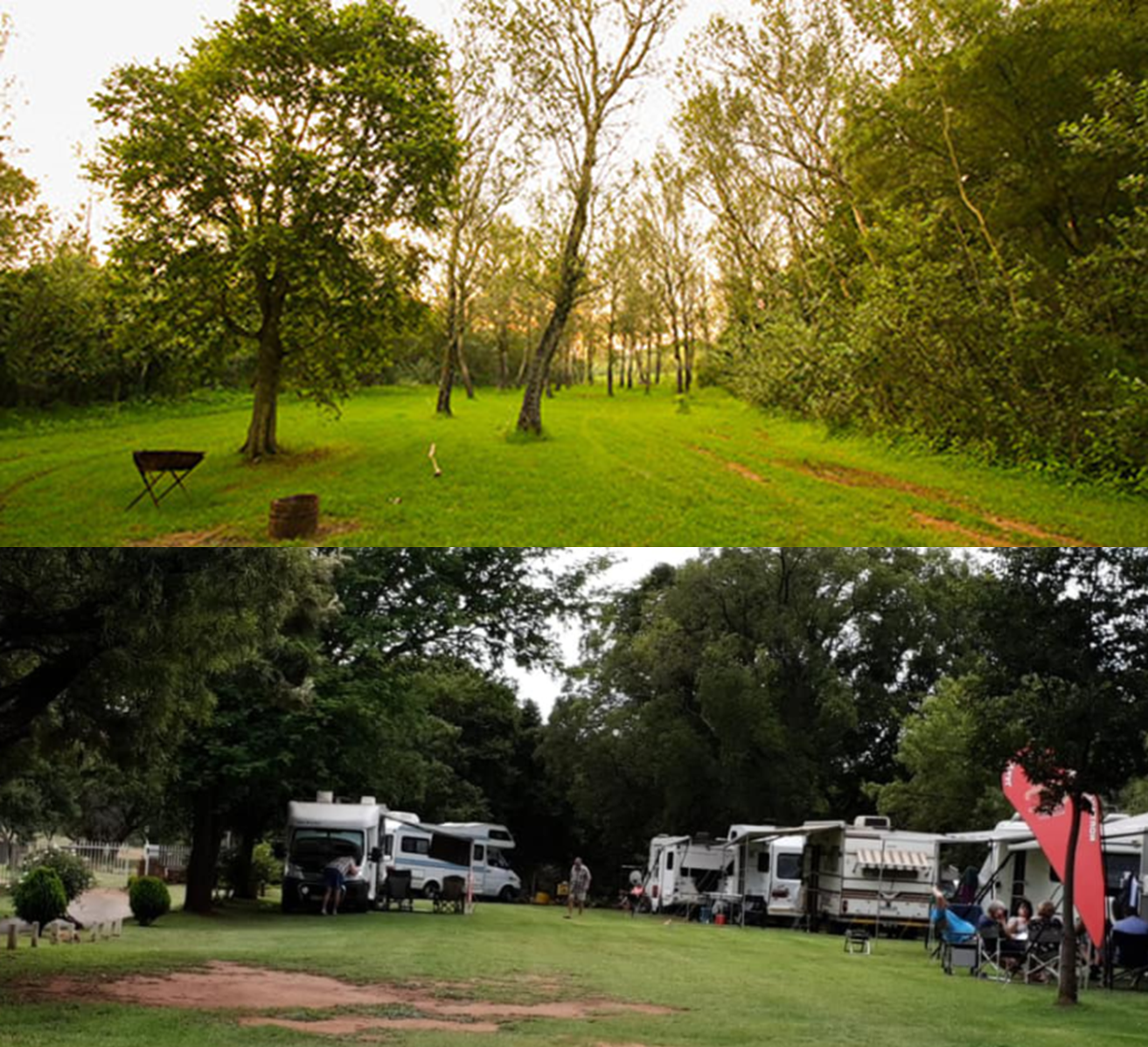 There you have it! Five of the best local caravan parks as suggested by Kamp Oase. Don't hesitate to pop by and enjoy a memorable time at the oasis that can be found amidst the Mpumalanga heartland. Kamp Oase offers modern ablution blocks, indoor and outdoor swimming pools, jungle gym, lovely lush green grass and trees, braai facilities, and water and electricity point at each campsite.
Kamp Oase's location provides the camper with so much more than camping! Kamp Oase is within walking distance to Carnival Square, which is the largest jungle gym in Africa. AquaZone Waterpark provides hours of fun with five waterslides and an outdoor kiddies pool. Not a water sports fan? then we've got Rocky Waters for you, despite the name it is an 18-hole miniature golf course.
Book your next memorable camping weekend HERE